Proud Cornwall Air Ambulance Sponsors
As passionate supporters of local charities, Financial Planning Concepts is delighted to announce that we are now proud sponsors of the Cornwall Air Ambulance. For the next two years, we will be sponsoring the aircrew's uniform and our Critical Care Paramedic is Pete Storer who will be donning the FPC sponsorship badge at fund raising events.
We are profoundly aware of the fantastic work Cornwall Air Ambulance does saving lives. In fact, Donna and I have both seen first-hand the work that the air ambulance does, following a friends' glider accident and through Donna's brothers' badly broken leg at a football match. As we both come from a long line of Cornish ancestors, we are keen to ensure that our charity donations have a significant impact locally and the Cornwall Air Ambulance fits the bill beautifully.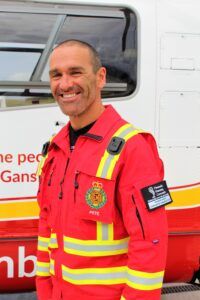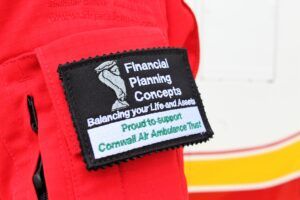 Steph Preston-Evans, Corporate Fundraising Officer at Cornwall Air Ambulance, kindly said: "As a charity, Cornwall Air Ambulance relies on the support of local businesses to keep flying and saving lives. We are incredibly grateful to Financial Planning Concepts for choosing to support the charity in this special way. It is support like theirs that enables our aircrew to carry out more than 800 lifesaving missions each year."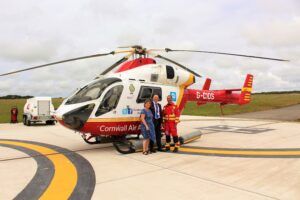 Cornwall Air Ambulance Trust is the charity that fundraises to operate the helicopter emergency medical service for Cornwall and the Isles of Scilly.
Every year the helicopter responds to around 700 emergency calls for help and is on-scene at an incident in an average of just 12 minutes. The helicopter can reach patients in any part of Cornwall, significantly reducing the time taken to get seriously ill patients the treatment they need – in hospital or on-scene.
It costs £3.5m per year to operate this service, and with no National Lottery or direct government funding, the charity relies on the generosity of the people and businesses of Cornwall.
For more information about the Cornwall Air Ambulance visit cornwallairambulancetrust.org or call 01637 889926.